English Garden in Munich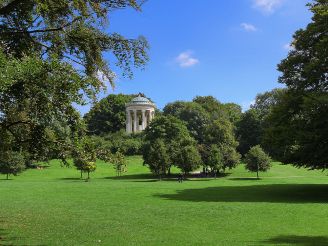 In the very heart of Munich, one of the world's most spectacular city parks is situated. English Garden in Munich exceeds even the famous London and New-York parks. It stretches from the centre of the city to its northern part, its length is more than 5 km, and width – around 1 km.
In spite of the great number of modern entertainments available at the park, it is also famous for its rich history. The park was created in 1792 by the order of Charles Theodore, Duke of Bavaria, who decided to involve his soldiers in agricultural works. That's why the park was designed in natural style. Over time, the park constantly extended occupying more and more territories. Nowadays it's a beloved resting place both of native citizens and guests of Munich.A special deepest system of streams was created in the garden, which even allows to go in for surfing here. There's a large lake where people can go boating or sunbathing on its banks in hot summer days. Speaking about sights, they're mostly situated in the southern part of the park. A 25-meter tall Chinese Tower is situated there, too. They say the best Munich beer is sold right beside it.
In comparison with the southern part of the park, which is always busy with people having rest, the northern part stays quiet and silent. It is the best destination for those looking for a quiet rest and tired of busy city life. It is also interesting for cyclists, as a lot of cycle routes are arranged here.
English Garden in Munich is open for visitors every day. The bus No100 and tram No17 go along the street Prinzregentenstraße, passing by the southern part of the park. You should take off at Haus der Kunst Stop. Using the underground, you should take off at one of the following stops: Odeonsplatz, Studentenstadt and Giselastrasse.