Ludwigsburg Residential Palace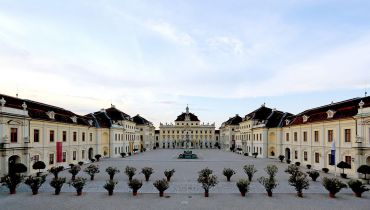 In the heart of the beautiful Ludwigsburg Palace is that for many centuries was the family nest rulers of Württemberg. Ludwigsburg residence is considered to be one of the largest surviving monuments of European Baroque architecture. In the palace complex consists of 18 buildings and more than 400 luxury rooms.
The first castle came here in 1704, when the Duke Eberhard Ludwig decided to stay in these places for hunting. Gradually around the hunting lodge began to arise different buildings, so began the history of the city. In 1718, received the status of residence of Ludwigsburg, and the Duke decided to rebuild it in a grand palace. Construction of a luxury complex, which in its beauty and decoration are not inferior to the famous Versailles, ended in 1733.
Interiors Ludwigsburg residence combines style baroque, classicism and rococo. In the east wing of the palace has remained one of the oldest theaters in Europe. There is also a museum of ceramics, fashion, porcelain and more. Palace is interesting and children, here is a special historical exhibition "Children`s kingdom."
The residence is open every day from 10:00 to 17:00. Inspection of the castle and museums is only possible with a guided tour. From mid-March to mid-November tours are every 30 minutes. In the winter time - at 10:30, 11:45, 13:30, 15:00 and 16:00. On Saturday and Sunday the group guides collected every half hour. The ticket costs about 7 euros, audio guide services - 3.50 euros.
From Stuttgart to Ludwigsburg is easily accessible by train, run every 20 minutes, journey time - 1 hour 10 minutes. From the station to the residence you can take a walk, it will take up to 30 minutes. Need to move to the east along the side Mörikestraße Raiffeisenstraße. Then you go to the central square, in front of which stands the palace. You can also use public transport. From the bus station buses №421, 427, 430, 443 and 444, the stop is called «Residenzschloss».