Neuschwanstein Castle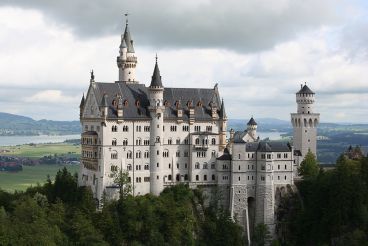 Neuschwanstein Castle is one of the most magical and romantic structures in the world. It was built by King Ludwig II of Bavaria. The castle is located not far from the small German town of Füssen. The castle is surrounded by picturesque nature opening the scene of rare beauty from its windows. Not by chance, as far back as 1985, the famous animator Walt Disney decided to use the outline of Neuschwanstein Castle as a logotype for his film company.
Originally, Neuschwanstein Castle was designed in the medieval architectural style typical for the times of knights. For its construction, a king's ransom equalled six million gold marks was spent.
In 1869, the cornerstone was laid. Until 1873, the main gate and part of the walls were complete. After that, the construction was hastened and by 1883 the castle's building was almost finished. The following spring, the king moved to his chic apartments, where he spent the last twenty-five years of his life.
After death of the monarch, the construction work was suspended. The third floor and ample space for knighthood remained unfinished. The construction of the planned western terrace, of the main tower and of the castle church hadn't been started at all.
The interior of the castle was of particular interest due to its luxury and splendour. Its walls were decorated with numerous canvases. Its main feature was a throne room. Despite the fact its decoration was not fully completed, it was one of the most magnificent halls of that time. Its interior was meant to glorify and sing the praises of God. Wonderful basilica, which was equipped with a recess for the throne, showed the close connection of the king and the Author. Sculptures of the Twelve Apostles decorated the elegant marble stairway leading to this room.
The monarch was fond of German literature and culture. They are reflected in the design of the castle. Murals of its rooms show scenes from the Lohengrin Saga. The grotto of the palace resembles the Venus Grotto, mentioned in the legends about Tannhäuser. Their scenes are also depicted in the festive and singing halls. The only room, which is in stark contrast to other premises, is the bedchamber. It is designed with Gothic elements.
At the end of the Second World War, Hitler used the castle as a jewellery store. Gold reserve of the Reichsbank, unique paintings, furniture and other antiques were kept within its walls. In 2009, the castle was completely renovated and today welcomes its visitors in all its glory.
A picturesque lake, water of which is considered to be the cleanest in Germany, is located next to the castle. It is home to many ducks and swans. Neuschwanstein Castle is situated opposite another royal residence, which was used in summer period, it houses the historical museum. A small village, beautiful green fields and blue reservoirs complete these picturesque surroundings.