Travelling to Antarctica is becoming easier. The German cruise liner can get you there
3383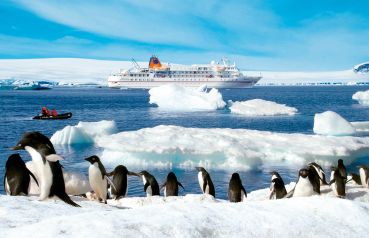 How about visiting Antarctica? It is a good idea for experienced travellers looking for new lively emotions. This place is the only uninhabited and untouched by humans continent. Visiting one of the most mysterious corners on earth, the southernmost territory of the planet, is a very tempting offer. It is like a trip to "another world". A new travel opportunity has appeared. The German luxury cruise liner MS Hanseatic offers to carry passengers to Antarctica. You can book your voyage at the Hapag-Lloyd Company.
It's not easy to reach the continent, of course. You should spend at least 23 days for the trip. First, you come to Argentina with a city tour around Buenos Aires. The next point of your route is Ushuaia, situated in Tierra del Fuego Province, which is in the south of Argentina. Here, in the southernmost city, tourists go aboard the cruise ship, which carries them to Antarctica. The voyage also includes a visit to the Falkland Islands and South Georgia. The vessel is a five-star cruise liner for 175 persons. There are all the leisure facilities there: restaurants, bars, a sauna, a gym, a lounge area and a library.
Antarctica was discovered by humans in 1820. It was a Russian expedition headed by Faddey Bellinsgauzen and Mikhail Lazarev. Today, in spite of the fact the trip to Antarctica takes a lot of time and money, the interest to this mysterious continent grows constantly. In average, around 20 thousand tourists annually visit it. Mostly they come here on vessels departed from Argentina, Chile, New Zealand, Australia and South Africa.
In Antarctica, you'll get acquainted with endless snow white spaces, icebergs and ice rocks, volcanoes, caves, and with unique flora and fauna world. You'll also visit some research stations. Don't forget to take warm clothes with you, as well as waterproof pants, sun glasses and boots. Warm clothes will be useful outside when taking pictures next to penguins and sea calves.
It's interesting, that Antarctica, which occupies more area than the USA is the most peaceful place on earth. Wars have never taken place here. The land has never been a part of any country. Only scientific researches and educational programs are held there. A lot of recourses which can be used by humans in future are kept here. About 70–80% of fresh water is kept in the Arctic ice.
For tourists it is a unique possibility to visit Antarctica on a board of a comfortable German ship, to feel a fantastic Arctic atmosphere, and to bring a lot of unforgettable emotions.
If you liked the news, tell your friends :)